Our vision
Okta is committed to nurturing a culture of diversity, inclusion and belonging to fuel innovation and collective growth.
We are working to:
Recruit diverse talent to build balanced teams.
Support and empower employees to be authentic and grow with us.
Create products and services that resonate with and fulfill the needs of our diverse ecosystem.
Our workplace initiatives make clear that all individuals can bring their authentic selves to work and express their voice.
We're problem solvers, builders, artists. We're creative, passionate, and love what we do in life and in our work.
Okta State of Inclusion report
Identity is at the core of everything we do at Okta.
We value what makes each individual unique. That's why our focus on identity extends well beyond our product, to include how we hire our employees, engage our teams, structure our company, and support our community. 
We are committed to diversity, inclusion, and belonging (DIB) at every level. We know that a diverse landscape of employees, partners, and customers with a broad range of perspectives is the only way we'll be successful in building an iconic technology company. Within Okta, our DIB efforts are inclusive and driven across business units and geographies. Inclusion ensures that we have fair and equitable processes and structures that enable everyone to be their authentic self at work. Our ultimate goal is creating a sense of belonging, giving everyone the confidence and security to actively participate – because ultimately, our differences are what makes us stronger.
Check out our first State of Inclusion report, in which we share an overview of our current workforce and the collective DIB efforts at Okta to create a sense of thriving, belonging, and opportunity.
Our Employee Resource Groups (ERGs)
At Okta, we're committed to making sure every one of our employees feels included and that they belong. We sponsor several employee resource groups (ERGs) designed to help our employees find a sense of community both inside and outside of Okta.
Women@Okta
Women@Okta provides a platform to educate, support, and ultimately improve gender diversity at Okta.
Our team members discuss important topics, such as gender equality and diversity, and participate in sponsored talks about leadership.
We also have fun with local philanthropy programs and networking at social events.
Check out photos from our events.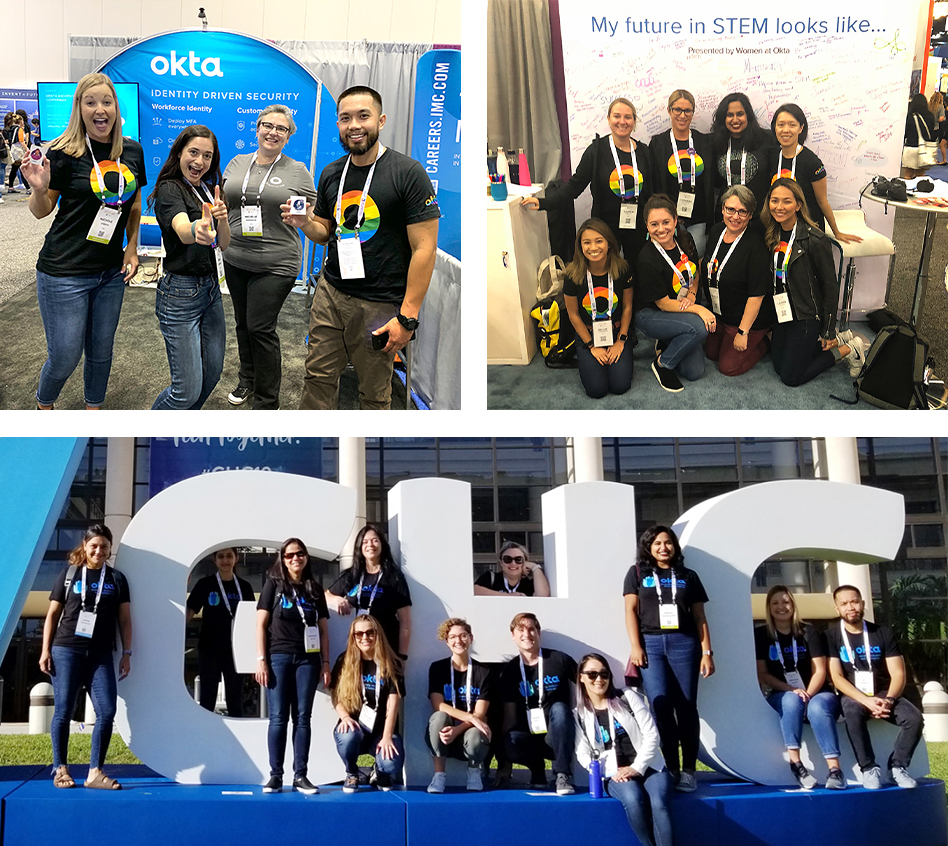 People of Color@Okta
People of Color@Okta is dedicated to promoting equity and inclusion through representation of all cultures, ethnicities, and genders.
We aim to disrupt the status quo by building a culturally and ethnically diverse community that celebrates our intersecting identities at Okta.
Check out photos from our events.

Pride@Okta
Pride@Okta is dedicated to providing support, resources, and networking opportunities for the LGBTQIA+ community in support of Okta's commitment to empowering its people.
You can find us marching in San Francisco's Pride parade, hosting educational panel discussions on topics relevant to the LGBTQIA+ community, and so much more.
Check out photos from our events.